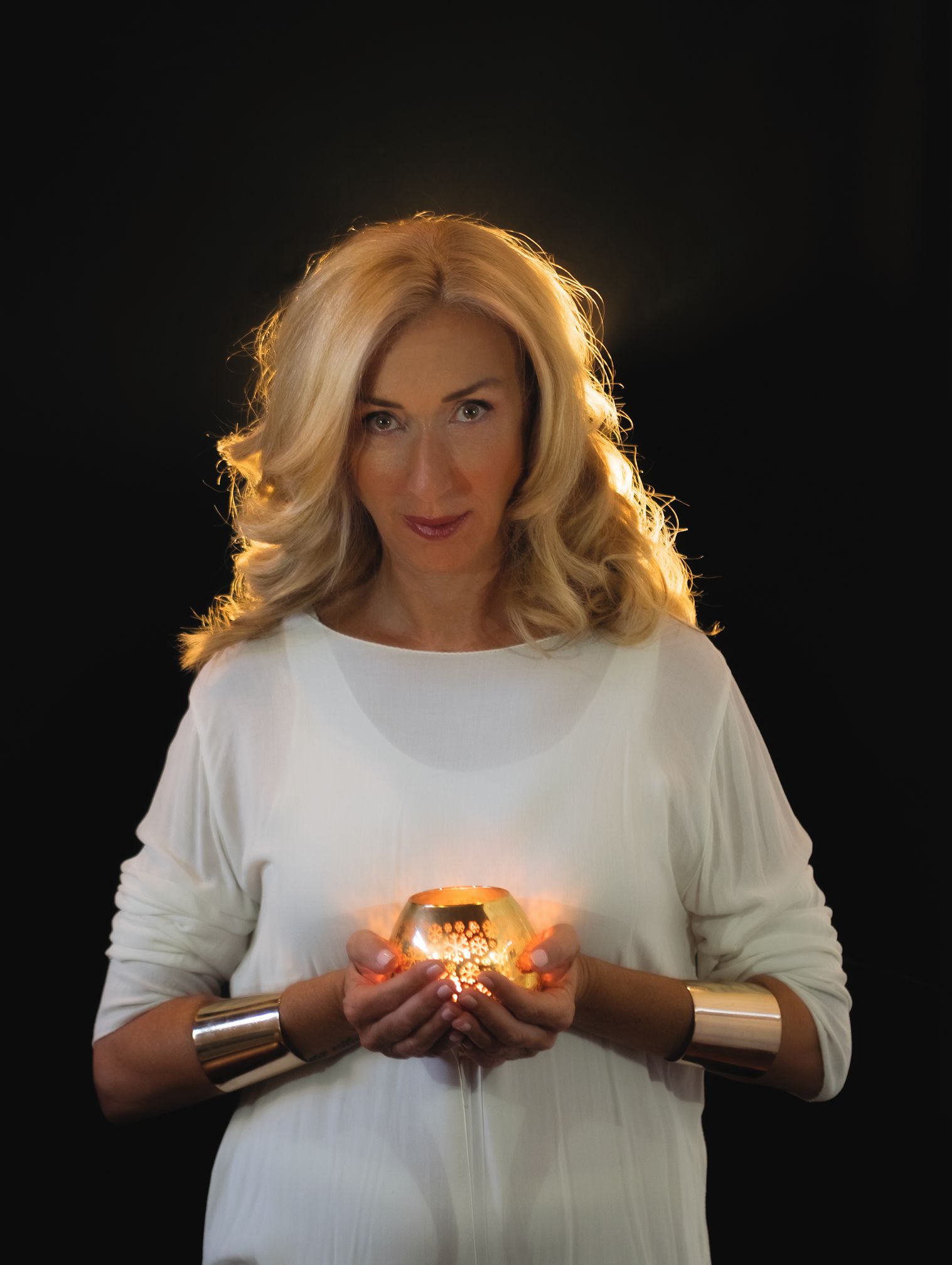 Maria Margariti is the Prem Sukhi - Metamorphosis Centre's founder. Maria Margariti began her life in the material world as a successful International Flight Attendant encapturing all aspects of a westernised defined rich lifestyle. Crossing all social standing layers, she excelled in the qualities of service, leading to enriched human interaction. Her unceased approach of multiple cultures integrated her seed of curiosity into a life path of growth through diversity. Maria's sharp inner perception enabled her to realise that something was missing in her own world, and began to seek the wider world for an inner world transformation.
Coming from the pain of her mother's death at her birth, left her with an eternal longing for the maternal connection and a yearning to fill a feeling of emptiness. The journey led her to experience and explore diverse sources of connecting at a deep level with herself and others. In 2000, Sukhi became a Sanyashin of the enlightened Indian Master Osho, liberating her ability to "put everything down" (worldly and materialistic desires) and dedicate herself to a spiritual pursuit through a deep awareness in this life. A Sanyashin does not abandon society, but only the ritual mores of the social world and one's attachment to all its other manifestations. The end is a liberated, contented, free and blissful existence. That is when she became Sukhi!
She studied hypnosis for healing emotional wounds and she attended the Mystery School, focusing on future life progression topics. Further on, Sukhi gained proficiency in Voicing, Archery, Bollywood Dancing and freedom through movement. Her highly creative power was fed under Meera Hashimoto in Pune, India, where she explored her inner depths through art therapy. Sukhi's highly attuned awareness of her inner Intuition was further unfolded through her studies in Astrology, Tarot and Wise Women workshops that deepened her female healing energy. She has a Masters Degree in Reiki and 7 years practising Kundalini Yoga.
Prem Sukhi experienced another painful reminder of humanness when her own experience of failed fertility sent her on a Transformational Sabbatical journey to the Western Sahara desert for a one-on-one experience exploring Somatics, Bioenergetics, energy blocking releases and grounding, connecting with the earth. Embodying self. She transformed her pain through the teachings and study of Tantra Practices.
She has received extensive training in the 5 areas of Tantra practise, by Radha Krishna (Tantralife.com) :
Meditative Sexuality,
Sexuality Free from Guilt,
Inner Fire,
Tantra and Meditation,
The Whispered Transmission.
The Tantra Training is a personal growth process aiming to a new vision of life, which allows an acceptance of self in a total way, overcoming taboos, repressions and conditionings. It's a transformation that involves emotions, sexuality and spirituality, spreading trust and joy of living. Sukhi has also thorough knowledge in terms of "Expression Primitive", which she has acquired with Eleni Chatzigeorgiou and France Schott-Billmann. She has participated in various shows involving primitive expression and scene art. Prem Sukhi is a powerful intuitive teacher, able to take you on a journey of change and rediscovery. She draws from multiple practices and embellishes with the rich fabric of her own life.
In 2016, she decided to go back to school, by enrolling to the Aegean University in order to obtain a Coaching, Counseling & Mentoring degree.
Courses & education
Prem Sukhi made sure of travelling around the globe in order to get the best in terms of training and education. In order to be able to transmit her knowledge and really be able to help people, she had to invest in her lifelong learning. For more than two decades she has dedicated her life to learning and assimilating techniques and processes from disciplines that seem contradictory in appearance, so as to create her very own and unique programme.
Professional Experience
Saudia Arabian Airlines 1983-1986,

Royal Jordanian Airlines 1987,

Olympic Airways 1990-2007,

Usui Reiki 1999 with Master Svarno (Ms. Vasso Alagianni),

Wise women Osho Multivercity 1999,

Osho Sannyas initiation 2000,  

Hypnosis for healing emotional wounds 2000,

Primal childhood deconditioning with Premartha and Svarup 2000,

Tantra sexual deconditioning with Premartha and Svarup 2000,

Master painter with Meera Hashimoto 2002,

Transforming power 2003 with Ma Prem Sugandho,

Kundalini yoga 2003-2007,

Dance of the seven veils with Prabhu Erasmia 2000-2002,

Voicing with Pradeepa di Stopani 2008,

Shamanic training in Peru 2008-2009,

Bollywood 2012-2014,

Organised the first Bollywood flash Mob in Athens 2013,

Τantralife training with Krishna Randa 2014-2015,

Vibrarmonics with Piotr Cwojdzinski ("Prabhakhar") 2015,

"Expression primitive" with Eleni Chatzigeorgiou 2015-2016,

Seminar with France Schott Billmann – initiation to chorotherapy and psychoanalysis 2015,

Internship at the National Institution for kids with disabilities 2017,

Courses in social anthropology and Psychological first aid, Aegean University 2017.

Aegean University Coaching, Counseling & Mentoring 2016-2018.
My Work
The work that we do together focuses on expanding your well-being both in business and in life. Well-being, is the amount of good stuff (relationships, love, connection, creativity, money) that we gather. The art of metamorphosis is the art of expanding and developing the concept of yourself. When we shift, the whole world responds to the vibrations we emit and transmit.
Who I work with
I work with people who are bright, with fantasy and deeply committed to opening to the truth and awakening. My clients have great vision, huge talent, and willingness to dare and achieve. They have taken many risks in their lifes and they have experienced great dangers, huge success and big failures. They are ok with the difficulties of the path but they are determined to achieve their dreams. My clients are high achievers. They don't need me. They just desire to expand their horizons to a higher level.
I work exclusively with people who inspire me, with people who take action to stretch beyond their current comfort zone.
Who I do not work with
I don't work with people who hide behind an "I know" statement in order not to make a change and be protected at the same time. They are blaming the others for their resentment. I do not work with those who only look at the bright side of life and don't delve into their shadow. Those who are not comitted to owning and/or recognising and deploying their own power and capacities or talents.
If you are interested in working with me, contact me here. If after our first meeting I feel inspired by you, and I feel like I am able to connect with you, then I will draft  a tailored to your needs proposal.